Pool parties, backyard barbecues, and staycations are right around the corner. It's that time of year when homeowners are busy getting outdoor living spaces ready to enjoy with family and friends. The good news is that there are simple and quick ways to help them spruce up their spaces.
Start with Safety
For most homeowners, the security and safety of the private outdoor oasis is a top priority – this starts with your fence gate.  At Nationwide Industries, we have the hardware required to ensure your gate latches securely and cannot be unintentionally left open.
If your outdoor living area includes a pool, keep neighbors, loved ones, and pets protected by installing a Trident Magnetic Pool Latch. Couple the safety our Trident latch brings with self-closing hinges to ensure your backyard area is protected against any unintended accidents.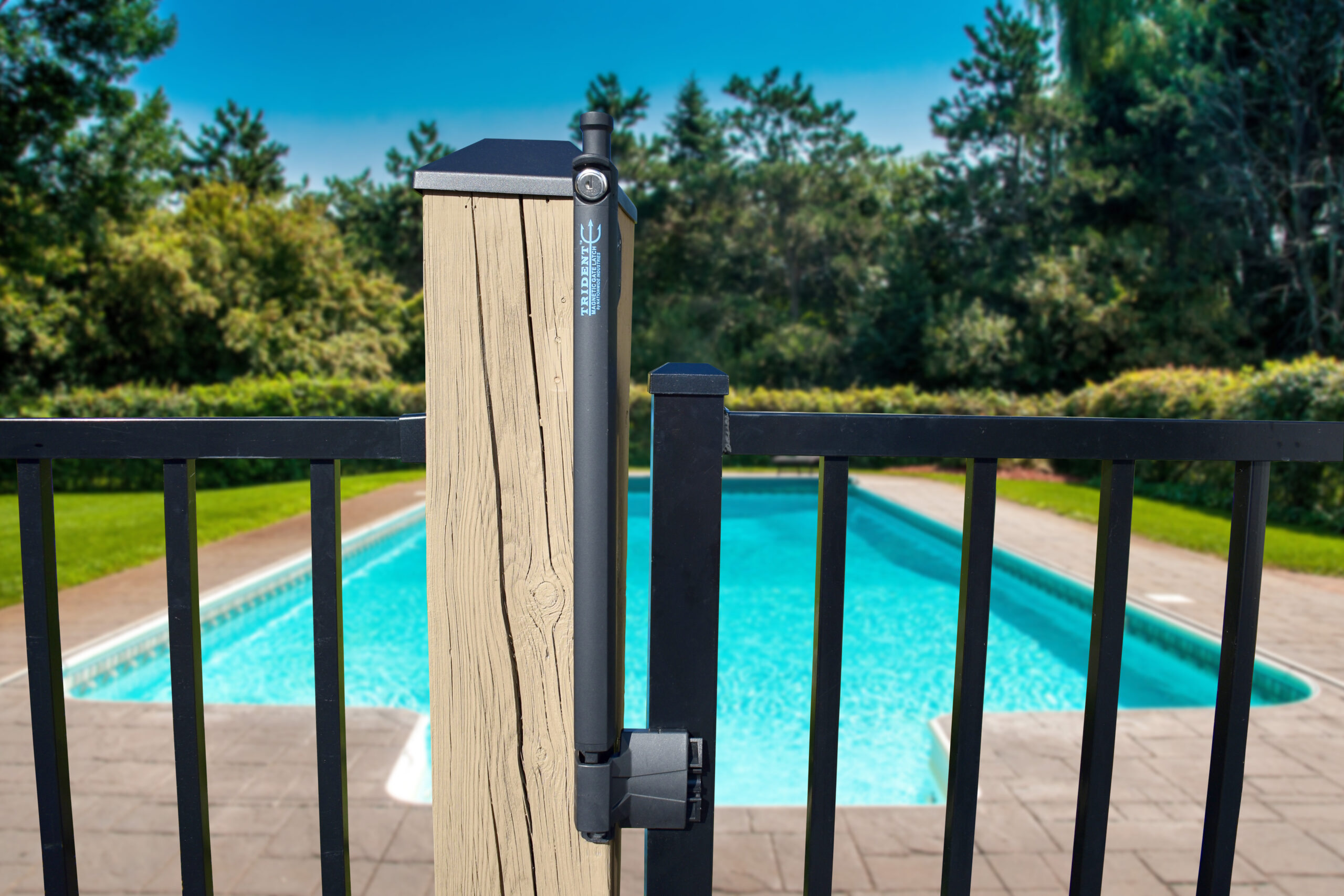 Straighten Up
The off-season can be tough on a home's exterior. Take the time to inspect your deck or patio for cracks, loose boards or railings and any nail pops that may require repair. Remember to also examine the fence — watch out for loose or rotted fence posts and pickets, and check for rusted gate hinges.
Once repairs are out of the way, it's time to clean. Pull out the power sprayer to wash away dirt and debris from hardscapes, walkways, and decking. Outdoor furniture needs cleaning too, but the mix of materials can make this tricky. HGTV has these helpful tips for cleaning outdoor furniture the right way.
While you're at it, don't forget the grill! Before you plan your first cookout, clean the grates, empty the ashes from your charcoal grill and if you use propane, check and clean the connections.
Say Goodbye to Pests
There are no backyard party crashers more unwelcome than bugs! It's smart to plan ahead and schedule an appointment with a pest control service that can spray before the season starts. Or, If you're looking for do-it-yourself solutions, check out these tips from the Washington Post.
Set the Scene
Now that the exterior upkeep work is done, you can turn your attention to the finishing touches.
Add Lighting
Lighting can be practical while simultaneously creating beautiful ambiance for outdoor living spaces. From walkway illumination to tabletop lanterns, regardless of your budget, lighting can set the mood for any area. Consider incorporating a few of our post cap solar lights this season to add lighting to the fence.
Refresh Landscaping
After the long winter, your garden beds may be looking tired. Now's the time to perk things up by pruning shrubs, raking leaves, removing weeds, and filling in bare spots with ground covering, colorful plantings, and fresh mulch. Potted or container plants can also help to create a welcoming and relaxing environment. Check out Country Living's 20 Best Patio Plants for a Lush Outdoor Space.
Settle In
Getting outdoor ready always seems like a big chore, but regular maintenance means long-term enjoyment. Share this with your homeowner customers and spread the word about the ease of getting outdoor season ready.