Radius Perimeter Security's Secret to Success
Nathan Downs, the owner of Radius Perimeter Security in Tulsa, Oklahoma, is an ardent believer in building relationships in the fence industry. Before starting his own company, he was the manager at Empire Fence Company in Tulsa, where they exclusively used Nationwide Industries' products. "Anytime we needed specialty hardware — hinges and latches — Nationwide Industries provided it because they have the best quality at the best price point," said Nathan.

When Nathan started working for himself, he continued the relationship with Nationwide Industries. "I have known Michael Greenfield for years," added Nathan. Michael is the regional manager of the Midwest for Nationwide Industries. The relationship is built on mutual respect.
Nathan demonstrated the relationship with a story about a fence project he was building for a grandmother of an autistic grandson to protect him from the pool and outdoor fireplace. The pool was scheduled for filling, and Nathan didn't have any fence and gate hardware in stock. Nathan called Michael, and Nationwide Industries shipped Nathan what he needed overnight from its Tampa facility. Problem solved.
Radius also fulfills a niche of specialized projects others can't or aren't willing to do. "We're not a cookie-cutter operation. We are 180-degrees from the ordinary," said Nathan. If it's custom — iron, wood, chain link — that's where we come in and fulfill the need. And Nationwide Industries works closely with Nathan to develop any specialized hardware to complete his projects. "This kind of teamwork from a vendor is rare," added Nathan. "It's a big advantage for us."
Case in point: A local Tulsa builder bought older homes around the University of Tulsa to convert into quadplexes for college students. Because the location is not in the best part of town, and all the doors are exterior entry without a common area, it posed a serious security issue.
Nathan came up with a simple solution. Build an ornamental iron fence around the building, including Nationwide's small profile design black stainless-steel horizontal adjustable, self-closing gate hinge and LockeyUSA's 2835 Mechanical Keyless Lever Lock for easy access. "The 2835 adapter meant that I didn't have to put in the lockbox, and I didn't have to custom-build every gate to bolt onto the existing ornamental iron gate," said Nathan.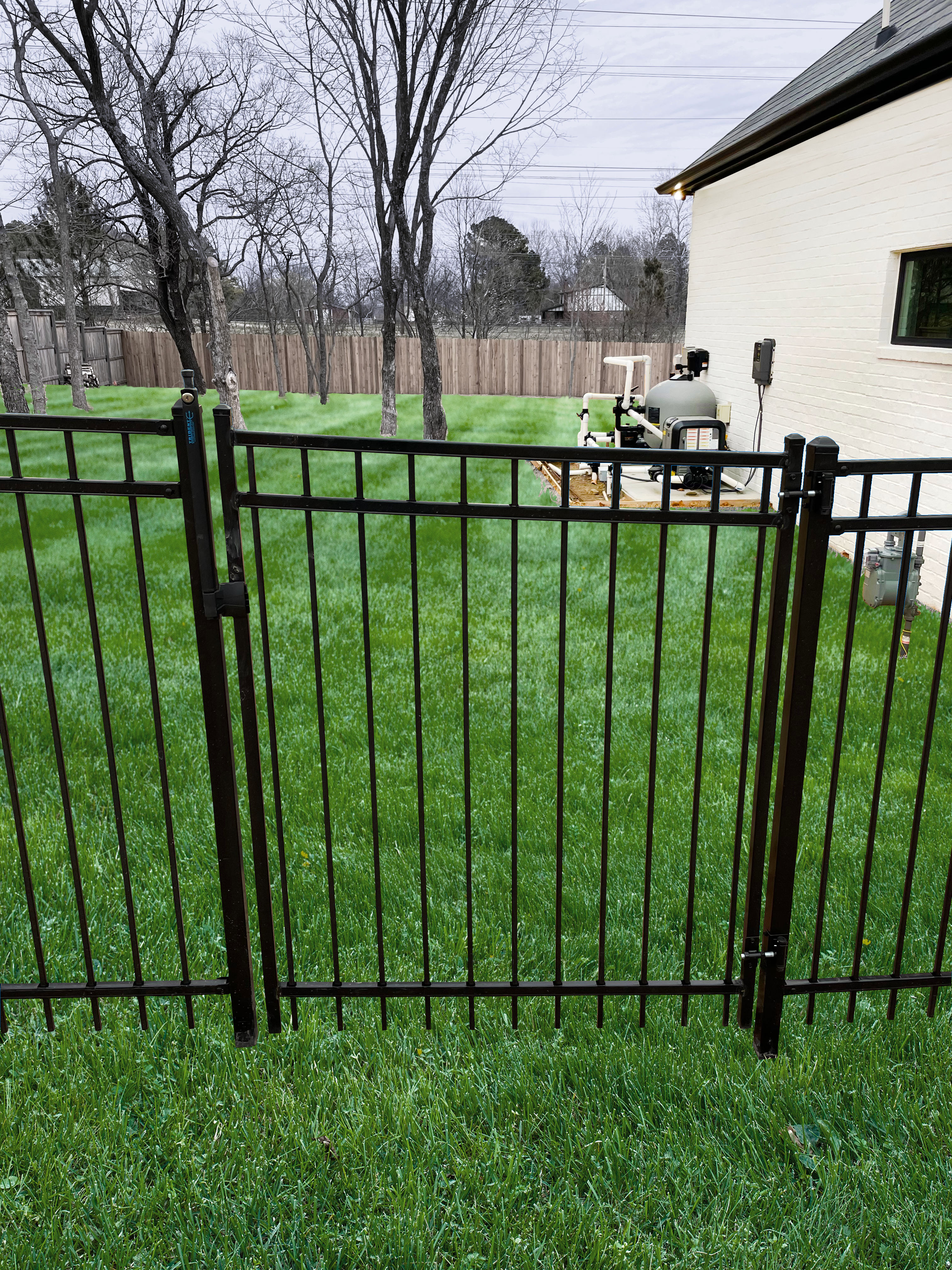 The solution added protection for students from the street or parking area to the front door and provided a common space to socialize or let their dogs run without worrying about the busy street.
Nathan has also completed dozens of pool projects in the area, and his standard pool hardware is the Cornerstone Hinges and Trident™ Magnetic Pool Latch. "They are the only products I use today."
"When I talk to Michael about what I need from Nationwide Industries, they always come through, and there is tremendous value in that," added Nathan.
Learn more about Radius Perimeter Security and the type of fence that is best for your pool in Tulsa County.